Achieve lighting like the professionals
Lighting is currently an important part of interior decorating and that makes sense, because lighting plays a great part in how people experience a home.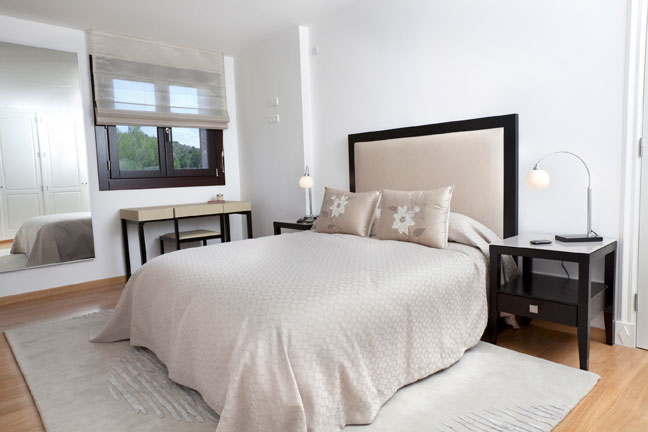 By Lotta Svedberg
However much we decorate and make things nice in our homes, you can never overestimate the importance of lighting to the overall impression. But buying and putting up the right sort of lamps requires some knowledge. "Allow a little time when you are buying new lamps. Talk to the staff and always ask to see the light switched on," says light designer Niklas Ödmann of Black light design. He works with both public and private environments. One of the biggest mistakes he thinks we make when it comes to lighting, is being stingy with lamps. If Niklas Ödmann were to give a single piece of advice, it would be this: If you just change all your switches to dimmers, then you will have come a long way!
Lighting room by room
Kitchen
Flat spotlights or a string of lights beneath kitchen cupboards, hanging lights over the kitchen table and kitchen island, as well as general ceiling lighting are all good here. Make sure the ceiling lights give off a warm and cozy light. Fans are available with integrated LED- or halogen lighting. This gives good visibility over the stove and increases the coziness factor. If the cupboards have glass doors, it can be very effective to light them from the inside. If your cupboards are not made of glass: put in lights which turn on when the doors are opened. Hanging lights over the kitchen table should direct light down towards the table top and not blind anyone sitting around it. A long table should have several hanging lamps, mounted in a row.
Living room
You need at least five different sources of light, for example table lamps on the TV bench and drawers, floor lamps beside armchairs, standing or hanging lamps in the window and a ceiling lamp if you know that sometimes you need artificial light. There are also TVs with LCD technology which have inbuilt LED background lighting. This gives a comfortable light directed at the wall and is optimal for the eyes. To avoid having to go round and turn off all the lamps, it is smart to have a remote control. Make sure also that there is a dimmer and timer, the latter to trick any thieves when you are on holiday.
Bedroom
In the bedroom it is a good idea to have softer lighting. One reading lamp with a flexible arm is enough on the bedroom table, one table lamp on the chest of drawers and one in the window. You could also have a stronger ceiling lamp. On the whole, think more about decoration than function. If you for example have nice bed linen and want to emphasize it, you could have a ceiling lamp shining right onto the bed. That looks inviting. Put a light switch by the bed or get a remote control so you don't have to get up to turn out the lights.
Entré and hall
The hall is not usually very big and often a ceiling lamp and lamps beside or above the hall mirror will be enough., so you can see well when you are putting your coat on. If you have a larger hall with an inside stairway, it is easy to play with lighting and for example to mount light diodes by the stairwell or to put up lamps so the light shines through the bars. That will liven up any hall.
Office
The most important thing of all is the desk lamp, which you should be able to angle in any direction. Place it behind the computer so you have room for important pieces of paper while you work. Also make sure that the light doesn't shine on the screen. Finish with basic lighting, a ceiling lamp which spreads light throughout the room, for example, and a spot light. Also light up your walls and bookshelves with directional spotlights or strip lighting.
Bathroom
Pay attention to mirror lighting. Many people place the light above the bathroom mirror, but it is more practical to set the lighting on the sides of the mirror at eye level because it doesn't create so many shadows. It has become more popular to put in spotlights in the bathroom ceiling, so-called down lights. Usually the spots are halogen lamps but a more recent alternative is light diodes. Many people don't think about using dimmers in the bathroom, even though it is more necessary here than in any other room. This makes it easy to switch between cozy and bright lighting when you are cleaning. Remember that dimmers should be adapted to the lighting you have chosen, or the other way round.