Give your outdoor furniture a lift
Spend some time looking after your outdoor furniture and it will look as good as new.
By Anna-Maria Stawreberg
Photo Malin Nuhma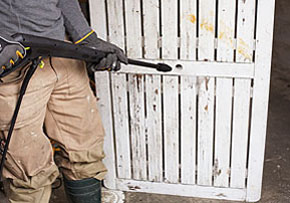 1) Clean
Wash the furniture with a high-pressure hose. Remember that the water pressure is high, so don't go so close that you risk taking chips out of the wood. You can also wash it with sugar soap and rags. Clean with soap and water and then allow to dry.
If the furniture is not too dirty, it might be enough to wash it with liquid soap and water.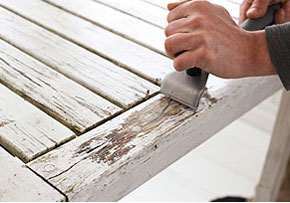 2) Scrape
If the furniture needs painting, scrape away the loose paint. This means the new paint will stick better and the result will be more even and professional. Use a normal paint scraper.
If the oil or acrylic paint is difficult to loosen, you can soften the old paint first with a warm air gun.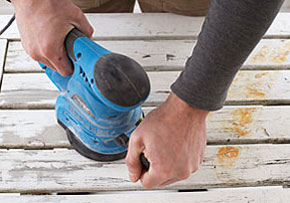 3) Grind
A normal sanding machine will make the job much easier if you have large areas of sanding to do. Begin with a rough sandpaper and then work towards a finer paper.
4) Sand
For a really good result, finish the prep work by sandpapering the surfaces. Rough every surface, so the paint will adhere better. Don't forget to wipe the dust away with a damp cloth. Otherwise it can stick to the wet paint.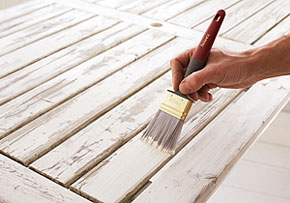 5) Undercoat and paint
Undercoat any places where the wood is showing and then paint with exterior paint. Don't forget to first protect the ground or decking with plastic. Avoid lime wash, as it can come off. You will get the best result if you paint the furniture the same colour it was.
6) Oil
If you want to oil your furniture instead you should sand it first with a normal sanding block. Then wipe off the dust. Apply several coats and sand between coats, for an extra long-lasting result. Allow to dry between coats.
You get the best result if you use a paintbrush, but if you want to work faster you can spray a thin layer of oil instead using a water spray bottle.
REMEMBER!
*Remember that using oil cloths is a fire risk. Soak the cloths in water in a closed plastic bag and throw away immediately.
Did you know that the ideal weather for painting or oiling furniture is between 7 and 25 degrees with no rain?
Screw!
* If your furniture is screwed together, it is a good idea to start each season by checking that all the screws are properly tight.