Repaint your home
Here is some inspiration and some smart tips to help you get started on your repainting project.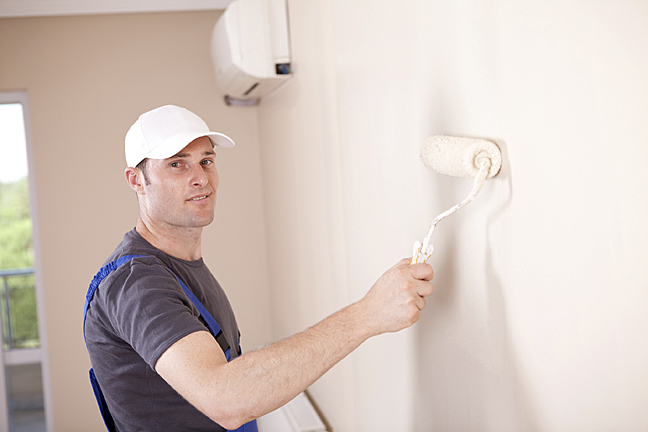 Give your home a lift by painting the walls. Join our paint school and learn some professional tips.

By Anna-Maria Stawreberg

Maybe you can identify with this: You have gone around sighing about your walls for ages and with the coming of spring, you have the desire to change and freshen up the inside of your home. Here is some inspiration and some smart tips to help you get started on your repainting project.
3 tips for a successful painting job
Use gloves when you work: paint can cause allergies.
Save the name/number of the paint you are using. You might need it in future when you need to do a bit of repair work.
Don't be afraid to experiment: If the colour is not what you wanted it is easy to paint over it…
Smart choices which make painting easier:
Paper Dust Sheet
Sugar soap
Masking tape
Roller with telescopic handle
Decorating knife set
Filler
Sander
Paint Brush Scraper
Paintbrush holder
Stiwex paint brush silk tip 50mm
Stiwex premium roller
Stiwex 180mm roller frame
Speedy Roller
Electric paint roller
"Painting a room is really not a big deal," says Benita Glassel, a painter for the past 20 years and owner of a painting firm, Pigmenta måleri AB.

The trick for getting a good result is called 'getting the right equipment'. In other words, using poor equipment will give you a poor result. That's why you should begin by taking stock of your painting tools and adding to them with good, up-to-date equipment. It doesn't cost very much, but will pay for itself several times over.

"When you are buying paint in the shop you should explain what kind of surface you are painting on. If the surface is wallpaper, it will need another kind of treatment than gib, for example. The shop will also help you to purchase enough paint," says Benita Glassel, who also suggests that you choose a tone lighter than what you originally decided, because the result is almost always stronger when the paint is on the wall.

To be really sure about your choice of colour, you can buy small test pots and test them on the wall to decide the tone and how much light enters the room.

Before you start you need to make some preparations. Cover the floor with a paper dust sheet and cover any furniture with protective plastic. Remember to cover fragile surfaces, power points, floor skirtings and ceiling architraves as well as door handles with masking tape.

"It is just silly to use newspaper. Buy a roll of paper dust sheeting and cover everything that needs to be covered before you start," says Benita Glassel.

When you have covered the floor and other surfaces properly, it is time for the prep work. Don't stress with this stage, but see it as an important part of the entire painting process. Wash with sugar soap if the surfaces are very dirty or greasy.

"Do your prep work well. It will pay off in the long run. Many people try to cut corners, but there are also many people who are a little too pedantic," says Benita Glassel, who believes in the principle "Anything not loose is not loose" – you don't need to get rid of every bit of wallpaper. It is enough to remove everything that is loose and then fill the joins. The aim is that you should have as smooth a surface as possible to work on.

Before starting to actually paint you need to sandpaper everywhere you have used filler. Because this creates a very fine dust, you also need to brush away all the sanding dust and other dirt with a vacuum cleaner, duster or microfiber cloth. Be careful not to let the dust land on your painting tools and make sure there is no dust remaining on skirtings, sockets, or on the walls.

Before you can start painting you have to undercoat all surfaces. Paint the edges, close to skirtings and beadings and corners with a brush: you can roll the rest.