Setting up a home office
Do you dream of having more space when working at home?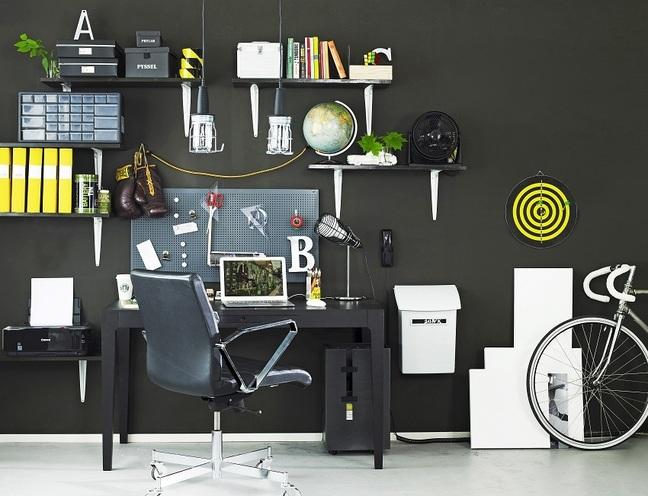 Styling & text: Amelie Grönholm Photo: Ragnar Ómarsson
With a bit of inspiration and the right tools you can make your home office stylish, more user friendly and create more space. Here we give you some tips and ideas to make your home office your new favourite room.
Using a bit of creativity a regular tool board (40-7243) can be turned into a stylish and practical notice board. Use magnets and hooks to attach your important notes and any items that you want to keep close at hand. By using a variety of fastenings, it makes it easy to attach and display a whole selection of items.

Shelving is a great way to keep floor space clear. By using storage boxes on the shelves you can keep clutter hidden away and by labelling the boxes you will always be able to find what you need easily. If you're putting up shelves in your home office it is important to think about the height of the shelves. Think about what you want to store and how heavy it is. Heavier items are better kept lower down so they are easier to lift.
By using a variety of light sources in your home office you can create different moods. It is very important to ensure you have enough lighting to avoid eye strain. Multiple lighting options give the office a nice look and create a better working environment for you. Don't forget to use environmentally friendly light bulbs such as LEDs to help save energy.
By using the walls of your office to store items you create a lot of extra space. You can even keep your waste paper bin on the wall (as shown in picture) with this quirky wall-mounted post box.
If you do need to store some things at ground level, using containers with wheels is really handy when it comes to moving them around and helps to keep the space flexible.
Guide to putting up shelves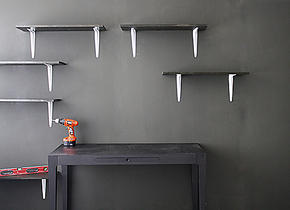 Work out what you need to store, this will affect how many shelves you need and how big they need to be.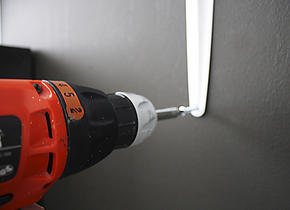 Don't be afraid to play around with the placing of the shelves and think practical. A printer should be placed low down so it is easy to get to but files and folders can be stored higher.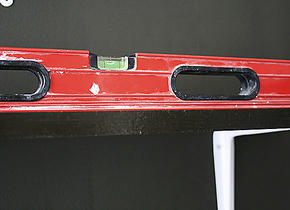 If you're looking to paint the shelves, do this before you put them up on the wall.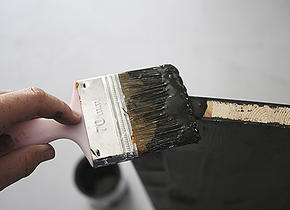 Measure and mark exactly where you want the shelves to go. Use a spirit level to ensure they are straight and use pencil or chalk to mark as this can be removed from walls. Screw the brackets and shelves to the wall using a suitable drill and bits. It is always a good idea to test for studs and wires using a stud detector before you start drilling.
Top tip: Keep cables tidied away
Use a cable tidy to keep wires out of sight. As well as looking tidy this also helps avoid tangled cables and it makes cleaning a lot easier. The cable tidy can be cut off to an appropriate length.
Tips for setting up a home office!
• Make the most of your space by using walls to store items.
• Create harmony by painting the shelves the same colour as the walls or by using a contrasting colour with paint or wallpaper.
• A working space needs both general lighting and spot lighting. Remember to use energy efficient light bulbs.
• Storage boxes on wheels help to keep the floor space flexible and are handy for paper recycling to avoid lifting heavy bags.