Succeed with your garden
Have you just got your first garden or are you already a good gardener? Head gardener Malin Skiöld from the Rosendal garden centre in Stockholm shares her best tips for both amateurs and experienced gardeners.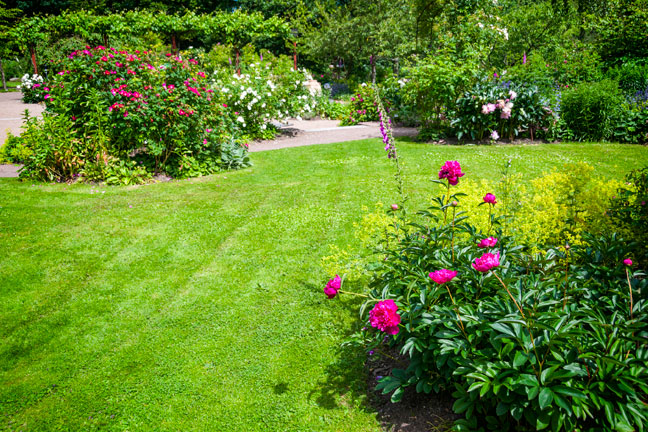 By Ulrika Nandra
The best thing you can do if you have just got your new garden is to sit back and take a few deep breaths. This allows you to get a feel for how your garden works and you won't need to be afraid of making hasty decisions.

"You can have big ideas and maybe think that this is where we will sit and eat, that is where the children can play, but then it turns out that you get far too hot sitting where you thought you would and the lawn gets too wet where you thought the children would play ," says head gardener Malin Skiöld.

Malin's first tip therefore is to learn to know your garden so you can see where you want to be and where you can be in it. That takes a whole season. At the same time, you will save a lot of money by doing things right from the start – that's if you wait before you make big changes.
For people who are prepared to spend a little more money, you can get professional help with your planning, a service that many garden centres offer. A landscape designer can also be helpful.

"Tell him or her what you are thinking for your flowerbeds and whether you want them to flower the whole summer. You should also take into account what sort of person you are. Maybe you don't want to spend too much time in your garden, and in that case it might be a good idea to have a flowerbed you see as soon as you enter, but cut the lawn so that some of it grows wild."

There are many catalogues to inspire you, but it is important that you find what is right for you," points out Malin.
And think about planning your garden according to your needs and how much space you have. Do you want a glasshouse, a trampoline for the children, your own pool? Think about how much time you want to spend looking after it. Flowerbeds and vegetable gardens take a lot of time compared to a lawn with flower boxes and big pots.
10 basic tips!

1 Get to know your garden – allow a season to pass in your new garden before you start spending money on making big changes. Get a feel for the garden, think about what functions might suit it, where you enjoy being in it, where the sun is at different times of the season, what sort of soil you have, what is growing and what grows well in different parts of the garden.

2 Think about spring, summer, autumn and winter – don't get tricked by what looks nice at the garden centre when you go there in the spring. Read, and ask the staff for help in planning perennials and bushes which will follow on from each other during the season.

3 Improve your soil with compost or cow manure during the spring and a little extra in the summer – don't use artificial fertiliser, instead help the soil gain life by using organic fertiliser.

4 Trim back perennials, the flowers that survive from season to season, early in the spring and leave the trimmings on the ground, chopped small, to increase the organic matter in the soil.

5 Choose good structural plants for the right position as a base – hardy, healthy, robust plants with high decorative value (don't only think about flowers, but also things like shape, beautiful leaves, autumn colour, lovely branches…).

6 Choose a complementary colour scale as base. By holding together the colour scale you create a calm and a unified base which you can then experiment with, by adding contrast, for example.

7 Buy mature plants of good quality. This can make building up a garden easier. In time the plants can be propagated.

8 Plant herbs and plants that attract butterflies in a sunny position and leafy plants in the shade.

9 Use ground cover under bushes to avoid bare earth, for example geraniums, waldsteinia, spotted deadnettle (Lamium maculatum) or snowberry to keep weeds down and to retain moisture in the soil and create naturally forming leaf mould.

10 Place your plants the right distance apart. Don't be stingy; planting the right distance apart allows plants to grow together so you achieve a dazzling garden and also less weeding, because it is harder for weeds to force their way in.
10 tips for the experienced gardener!

1 When it is time for big changes, it is wise to plan how you would like your garden to be before you start buying plants, planting and building. It is a good idea to enlist the help of a landscape designer.

2 Create a kitchen garden so you can grow your own organic food.

3 Learn to compost. It is a good idea to have three composts: one for new material, one from last year which is still active and one from the year before which is ready to collect compost from.

4 Propagate annuals by collecting and sowing seeds.

5 Propagate perennials by collecting seeds or by dividing the plants.

6 Propagate woody plants by taking cuttings and grafting.

7 Experiment with leaf colour and shapes to create effects in bushy or shady beds. Don't forget to think about autumn colour.

8 Compose theme beds for different situations and purposes, for example a butterfly bed, a prairie bed, Japanese-themed bed or beds themed by colour or shapes.

9 Think about floors, walls and ceilings and plan plants for every level. Choose plants at the right final height so you avoid having to cut back hard, disturbing the plants.

10 Maintain and rejuvenate bushes and trees carefully.