The best DIY tips!
We are guessing that you prefer to do it yourself. We give you the best tips to make your DIY experience as pleasant as possible.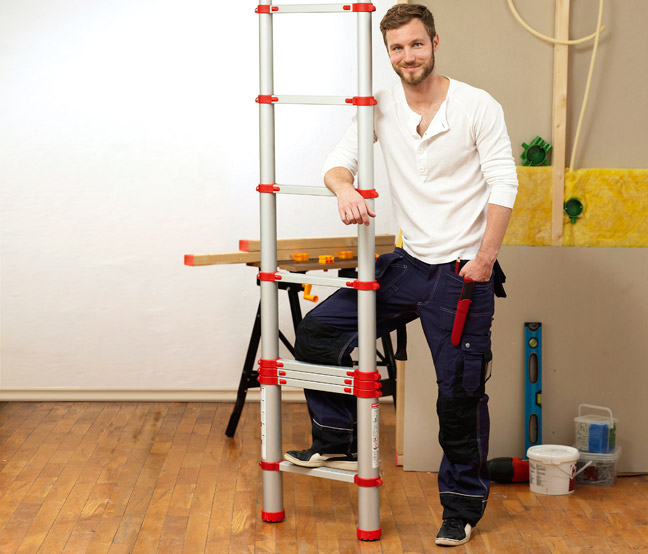 By Pia Printz Photo Peter Knutsson
Always be prepared!
Buy two batteries instead of one for your drill or cordless screwdriver and you'll save time by not having to wait for the battery to recharge.
Spread out the joints
Are you paneling the ceiling? Usually there will be a left over piece at the other side of the room. One tip is to start with the left over piece for the next round, regardless of how small it is. This way the joints will be evenly spread out. If you always start off with a new piece then the eye will naturally seek that place where all the joints are (a so called "general joint"). Also, a welcome bonus is that this way there will be less waste!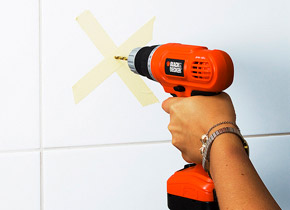 Drilling in tiles
If you are going to drill into glossy surfaces, such as tiles, you can place a piece of masking tape in the shape of a cross on the tile to prevent the drill from slipping. If you're going to drill into metal it's a good idea to make a small mark in the metal first by using a centre punch. That way the drill will get a better grip.
Paint before putting something up
When you're putting up a panel, the wood always tends to move slightly when it dries. If you paint the panel before putting it up, you can prevent unpainted gaps if the wood moves.
Skurting boArd to long ?
Mere mortals who saw a drop happens often that it becomes a bit too short, although accurate measurement. The saw blade steals an inch or three. Do you have a miter box - keep abreast of it by saying bar 5 mm longer than you measured. Test the process, if the fit and cut of minimal if it is too long, really tricky if you saw the free-hand. Continue to sit like a glove. Takes a little longer, but you do not have to discard expensive strip pieces.
Let the wood dry properly
Using a Mitre saw on skirting-boards can sometimes be a little bit harder than it first seems, especially when it comes to rounded cornices. A good and steady mitre saw will make this work a lot easier for you. Remember to leave the skirting at indoor temperature for a few weeks before you get started. This way the wood will dry properly. This will avoid the skirting-boards contracting and the possibility of gaps appearing.
Straight cut on the porch
Are you going to build a porch or wooden deck may itch in your fingers when you cut into the boards themselves. One way to minimize the risk of roughness is to nail the boards that are slightly too long and then cut them all at once with a circular saw. A long strip of adhesive tape helps to get a straight cut.
Pre-drill
Never hammer a screw in the wood with a hammer, instead pre drill the wood or place a awl into the wood so that the screw is easily screwed in later on.
How to loosen a stubborn screw!
Try using a chisel or square blade and an adjustable spanner when removing a stubborn screw. Press the chisel hard into the screw head and turn the chisel at the same time using the adjustable spanner. You can also try using a brace with a chisel.
Ignore clips
Should I put paneling, there are often metal clips to purchase. The idea is to nail down the clip, which then keeps paneling. The clips are mostly a nuisance and makes it take longer. It is much easier to nail brads (nails with a small head) angle in there tongues sticking out. Use a nail punch in order to countersink the brads with it is not in the way when you put on the next paneling.
Try something Japanese
Look beyond your old handsaw and go east! A Japanese saw is characterized by being small and fine-serrated . Thanks to this it is easy to work with and it's very efficient. It also takes away little from the material. The saw gives clean cuts and has good precision.
Repainting the steps
Time to repaint the stairs? Instead of white (which is popular), please choose a light shade of gray, for example, 813 Spring, from Alcro AD Flooring Collection. It is softer to the eye and also does not show dust as well as the blinding white. For preliminary work, it is important to have good tools, a grinder that access in tight corners.
Track of the screws
Save time by keeping track of screws and nails. With a convenient storage box with carrying handle, it is easy to navigate. Just bring the little box when needed, put it back when finished.
THE EASIEST WAY OF REMOVING
Sometimes old wallpaper won't budge. The scrapers are harder on your shoulders and arms than on the wallpaper. Try rolling the old wallpaper with a wallpaper paste, leave it in for a while and then use the scraper. The absolute easiest way is of course to use a wallpaper stripper which steams the wallpaper and makes it come off.
ALWAYS PUT PASTE ONTO THE WALL
When putting up wallpaper, start off by applying paste to the wall with a roller. If you have missed a corner of the wallpaper at least there is paste on the wall! It's not very hard to put up wallpaper edge to edge. The best way is to have one person on the floor and one person on the ladder in order to get a perfect fitting. Also you can fit the wallpaper by sliding the length a bit before the paste has dried, especially if you have pre-pasted the wall with a roller. This way you get a way better result than you get by overlapping the lengths.
PAINTING WITH SHARP LINES
The colour very easily "bleeds" underneath the tape when using masking tape whilst painting one field in a different colour. In order to get knife-edged lines you can start by putting masking tape and then painting it with the surface colour. Let it dry and then paint it with the other colour. Eventual "bleeding" then comes from the surface colour and the edge against the new colour will be very sharp.
find the tools
Every tool has its own place, but usually the cordless screwdriver, the compass saw, the screwdriver and the Allen key have two, three or more places in the house. Avoid marital crisis when you can't find the right tool, by getting a tool cabinet. We cannot guarantee that the cabinet won't get messy but you'll have all your tools in one place at least.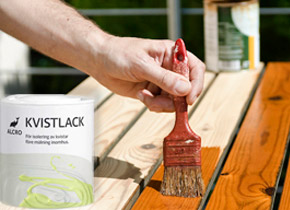 don't forget the shellac
When you are painting wooden panels or other wooden materials, don't forget to coat the knots with shellac. If you don't, the dark color of the knots will shine through after a while and that will be very hard to fix afterwards.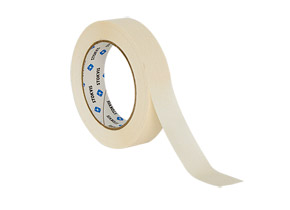 Without masking
If you don't have the time (or don't feel like) putting masking tape when painting door cases, window cases or floor bases, use a grout spreader or a masking board and hold it in an angle of 45 degrees this will give protection where you're painting. Don't forget to wipe off the spreader or board regularly.
Hold the nail in place
Does the nail not want to stay in place when you beat it? Cats and dogs can sometimes be difficult to turn in without thumbs gets a boot. Try to put it into a clique adhesive, or stick it through a piece of paper and hold against the wood.
Pattern Fit smarter
To save the wallpaper pattern in the fit, open all the rolls at once, look through all and choose the one you lose the least. Do you work with one roll at a time, you lose often 1-1.5 meters, while on another roller might fit the pattern with only some decimeters spills.
Pre paint first
If you are going to put up a bright wallpaper on a dark surface, or a solid colored wallpaper on top of a patterned, paint the walls first to avoid impact. Let the paint dry a day before you begin wallpapering.A Hot tip is to not let the kids draw with felt-tip pens on the old wallpaper.Ink is an unlikely character to slowly penetrate and after a few months show the artworks on your new wallpaper.
For all
Cable ties are a really universal tool to fasten, stick together and tighten. More often than not the most permanent solution, but fast and requires no tools.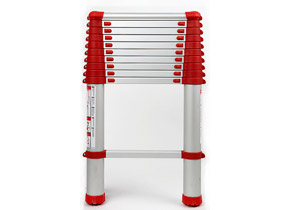 Safety in the stairway
Are you repainting or putting up new wallpaper in the stairway? Get a telescopic ladder and add safety bases. Pull them out to the right length and the ladder will stand steadily in the stairway.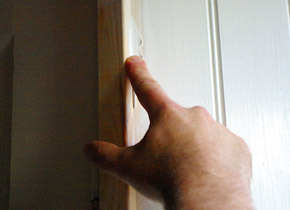 The carpenter's best friend
Gaps here and there are easily taken care of by using silicone sealant and a good sealant gun. A good piece of advice is to dip your finger in some water with a bit of washing up liquid before smoothing it out. This way it doesn't stick to your finger.
Avoid the cables
It is dangerous to drill in to a wall without knowing what's behind it. Use a metal detector when drilling into a wall at home. The metal detector can sense both electric cables and water pipes and indicate where not to drill
Always the right bits
Are you tired to put the full weight of the screw for it not to slip? The option is called Torx and have a sextandad bits with vertical sides. If you buy Bit set Cocraft Torx 25 mm and Torx screws, you can turn without the risk that it is slipping.
Do not do yourself
Sounds like a boring thing, but sometimes it may be better to allow the craftsman to do the job. What not to do yourself is of course different depending on what you have for knowledge. Fixed electrical installations must not be done at all, while plumbing jobs is permissible as long as they are carried out professionally and in accordance with applicable regulations. In case of damage due to errors in construction must not be anything out of the insurance. Then it is better if you use an accredited plumber who left the guarantees.
Easier Tiling
Tiled floor is not hard to do yourself. When you calculate the orientation of the plates makes it with a measuring board. In it, select the length of the plates plus fog. Measure the room's length and width dimensions of the board, you know how much tile you need. When you then add the floor there are facilities for smooth joints. It may be, for example, tile cross, or string.
Search the web
Have you run into a problem while working on something in your house? The chances are that someone else has had the same problem before you and written about it online. Good sites to look at are dinbyggare.se, byggahus.se eller byggportalen.se.
Small electrical jobs you can do yourself
There are laws concerning what you are allowed and not allowed to do when it comes to electrical jobs. You are allowed to: change a dimmer or a regular switch in the wall, assemble a lamp holder, assemble a socket, change a broken plug and assemble a switch on a cord. That's if you know how to go about it, otherwise it's better to let an electrician do the job.
Soap
If a screw is long and difficult to screw into a piece of wood, you can rub a bit of soap or candle against the threads and it should be easier to use.