The tool box guide
Put a little time into thinking about how you want your tool storage so your DIY jobs become more fun and take up less time.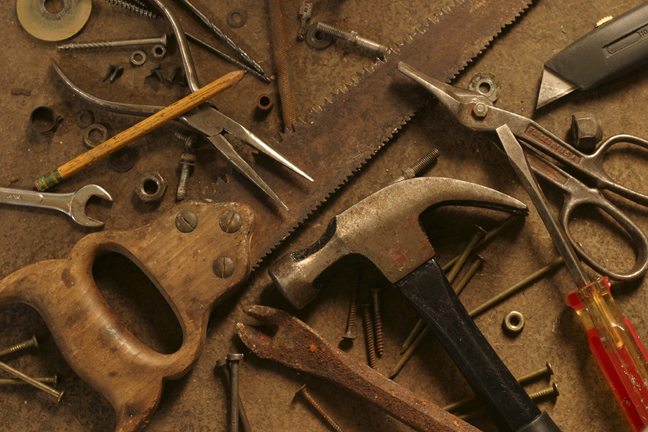 Law and order among tools makes the job easier and more fun.

By Johanna Linder

In the muddle of tools, timber, sawdust, instruction manuals and coffee cups it is easy to lose the hammer, and time taken to look for missing tools can probably be used in a much better way. Most DIYs dream about having perfect tool storage. Now is the time to deal with it: you save time, avoid irritation, your tools are better looked after and you will find the urge to take on new projects will increase. If you are a hobby DIY with a limited number of tools you might find a cheap option. If you are a serious DIY you probably need something more substantial. Do you need to have all your tools with you in different places or are you always in the same place when you work? Can some tools be stored stationary while others need to be moved?
Fixed tool storage
A fixed tool cabinet and wall hanging system is a good alternative for tools that need a fixed place of abode. Tools can be kept here that are seldom used, such as machinery and other special equipment. One option is to have all your tools gathered in a tool cabinet with a lighter toolbox alongside. Then you can gather up the tools you need for a particular project. If there are children at home a lockable tool storage system is good, also if you have valuable tools.
Movable tool storage
There are also tool chests and movable tool cabinets. "I use a roomy tool chest with several removable sections. Then I can always have the same amount of order," says Christoffer Röstlund, interior carpenter at Lindelöf & Berthling AB.
Several tool boxes
Another solution is to have different toolboxes. The tools you use most often can go in the lighter toolbox. In the larger one you could keep special tools, machines and the things you use less often.
Plastic boxes
Toolboxes made of plastic don't cost much and are lighter to carry.
1. Hobby DIYer
Verktygslåda Cocraft Cocraft Toolbox Available in different sizes with removable tote tray, and lid storage compartments.
FACTS
Material: Sturdy plastic. Smaller: Measurements: 40x22x17 cm. Larger: Measurements: 50x26x26 cm. Biggest: Measurements: 58x29x29 cm.
2. Serious DIYer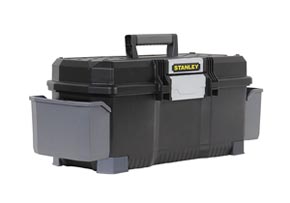 Roomy, lockable toolbox with room for bulky tools under the tray and two accompanying compartments for external mounting.
FACTS
Material: Strong plastic. Measurements: 71x29x29 cm.
Toolbox on wheels
A tool chest provides moveable storage of all your tools. You have everything you need close at hand and can move the chest away when your work is done.
1. Hobby DIYer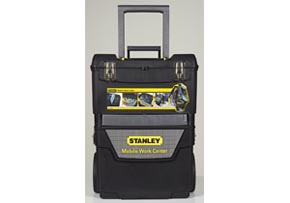 Stanley tool chest Chest on wheels, telescopic handle and two toolboxes. One box is removable and has a carousel compartment in the front and two compartments on the lid.
FACTS
Material: Sturdy plastic. Measurements: 46.5x25x62.5 cm.
2. Serious DIYer
Larger and more advanced tool chest with two slide out drawers and a detachable box with lift out tray.
FACTS
Material: Heavy duty plastic. Measurements: 57x39x73 cm.
Practical tool cabinets
Hang the tool cabinet on the wall – or take it with you when you work.
1. Hobby DIYer
Tool cabinets for the wall
Lockable cabinet for hanging on the wall, with adjustable shelves.
FACTS

Material: Steel. Measurements: 67.5×30.5×61 cm.
2. Serious DIYer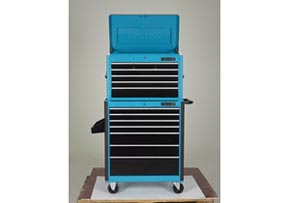 Cocraft tool cabinet Cabinet on wheels, with handle and lockable drawers. Buy the bottom part only or purchase the top drawers.
FACTS
Material: Strong steel construction med ball bearing expansion drawer runners. Cabinet with wheels and handle: Measurements: 69x46x85 cm. /Art. nr: 40-7818. Price: 1,599 kr./ Top drawer with lid and drawers with anti slip mat. Measurements: 66x40x45 cm.
DIYer on the move
A tool bag with shoulder strap is useful when you travel with your tools. Sometimes a soft tool bag is what you need. It is easy to put away and simple to take out when you need it.
1. Hobby DIYer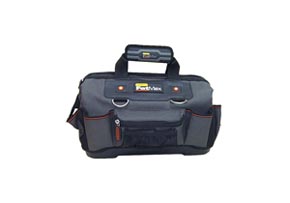 A soft tool bag which you can close, with pockets, compartments and a shoulder strap.
Material: Strong polyester material with plastic bottom. Measurements: 49x26x25 cm.
2. Serious DIYer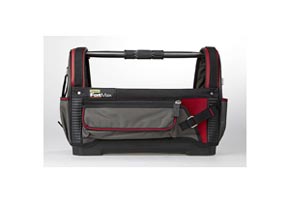 Stanley tool bag A tough and roomy tool bag with shoulder strap and many pockets and compartments.
FACTS
Material: Strong nylon with plastic bottom. Measurements: 45x20x35 cm.
Law and order.
You need to have a mania for order to achieve a satisfying tool system.
"I am pedantic when it comes to my tools," explains interior carpenter Christoffer Röstlund.
Christoffer always puts his tools back in his movable tool chest as soon as he is finished with them. And while he works, he keeps them in pockets on his carpenter apron. He never puts his tools in different places.
"I have workmates who often have to look for their tools. Then they want to borrow mine and they forget to put them back. It is a little frustrating sometimes," laughs Christoffer.
Christoffer's tips for order
Think about what your tool storage should look like. What are your needs? Do you need to lock up your tools? Do you want movable or stationary storage?
Make sure that your tools fit in your storage system and remember that you probably will get more tools in time. Put your tools back as soon as you have finished with them.
Carry your tools in your pockets or belt while you work – make a ground rule that you never put your tools in different places.
Lend out your tools – but be careful to explain that you look after them and that you want the person who has borrowed the tools to put them back in the same place.
If you store your tools in the basement or a storage area, hang them up or put them back when you have finished working.
Tips!
Remember that…
… sharp tools should not knock against each other in the toolbox. They will quickly become blunt.
… tools should be kept dry so they don't become rusty.
… tools should be kept so that no one risks becoming injured by them.
Tool belt
A tool belt means your tools are always close at hand. The only disadvantage is that having too many tools in your belt can be heavy. It is also very helpful if you are working on the roof or clambering around in a tight area. Get yourself a holster for screwdrivers, which fastens to the belt.

Cocraft carpenter belt A belt with many pockets and holders for hammers and rulers. Material: Strong nylon.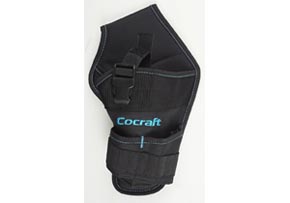 Cocraft driver holster
Holster for screwdrivers with pockets for drills and bits. Fastens to carpenter belt.
Material: Nylon.