Change store
| Product | Quantity | Total | Remove |
| --- | --- | --- | --- |
| | | | |
You save
Shipping from
Total including shipping costs
close
Ink and toner cartridges | Clas Ohlson
Remove comparison
Price
Ratings
Article No.
Online store
Compare

Toners & Ink
Cartridges
Our guide will help you
choose the right cartridge
for your printer.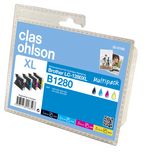 Ink and toner cartridges
Welcome to our wide selection of ink cartridges and toners. We stock all the favourites such as Brother, Canon, Epson, HP, Lexmark, Samsung and of course our own brand Clas Ohlson. Regardless which inkjet printer or laser printer you have, you need look no further for supplies. We have even made a guide to help you find the right cartridge for your machine.